Customer Reviews
11/11/2019
Olga C.
Stockton, California, United States
Soft, comfortable and good looking shoes, that all you need for dancing!
Thank you so much for your positive feedback, we are so pleased you are happy!
04/07/2019
Clifford---SC, U.
Secaucus, New Jersey, United States
Fabulous!!
I simply could not have asked for more value or better service from Axis Tango. I am a repeat customer and will continue to be a faithful customer.
We are so happy to hear that you are a loyal customer of ours! We couldn't do what do without you. Thank you for the five star review. We'll be seeing you again soon!
02/15/2019
Hugo
Arlington, Virginia, United States
Great!
Great shoes, the fitted perfect and they're really comfortable.
Thank you for your 5 star review Hugo! Come back again soon!
11/04/2018
Larry G.
Derry, Pennsylvania, United States
Great company and great service
Received my Tango Shoes in perfect condition and as soon as they came through customs, the staff had them shipped out promptly. Answered all of my questions and communicated while I waited( these were pre-order from Italy). Thank you Gaia and Axis Tango- I'll let you know when I'm ready for my next pair!! Now I can Tango!!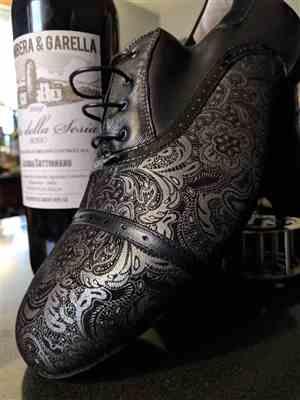 Hi Larry! Thank you so much for your kind words. We absolutely enjoy helping dancers find their perfect pair of shoes. Glad to hear you are doing the Tango in comfort and style. We look forward to helping you find your next pair!
08/24/2018
katie
Chicago, Illinois, United States
Eye Catching
Beautifully designed leather on a light weight shoe.