These sober and elegant tango shoes echo the seriousness of Miguel Calo's tango Jamás Retornarás, a tango that some say should not be danced lightly, but with conviction and heart. The delicate triple-strap open heel cage looks light and delicate yet is incredibly secure for an open back shoe. Possibly the most supportive open back tango shoe you have tried yet?
Yuyo Brujo handmade Argentine tango shoes are crafted in extremely limited numbers to ensure the highest quality and preserve the exclusivity of the collection. If you see a model you like in your size & heel height preference, you should get it now because if you wait, the pair might be sold out. Axis Tango receives transfers from Yuyo Brujo once a month; the pair you purchased has now been reserved for you and will arrive from London in the next monthly shipment. We will then happily send it to you!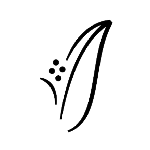 75mm / 2.9", 85mm / 3.3" or 95mm / 3.75"  matte silver colored heels.
Gel padded insoles.
Designed specifically for conditions of dance movements.
Designed in London, handmade in Spain.
European medium fit sizing.
Recommended for standard medium-width foot shape. This model has a butterfly front, which is the "roomiest" of all Yuyo Brujo designs. 
Initial fit should be comfortably snug. This shoe will stretch in width (but not in length) with wear.
Suede toe strap edged with laminated leather.

Heel cage of laminated leather straps for ankle support.
Leather insole with kid leather lining.
Buffed leather soles with removable protective film.
United States
Free ground shipping on all orders over $150.
21-days postage paid returns for store credit (no return fee) or refund ($28 return processing fee). Heads up, 21 days = from the date the order shipped to the date it is back in the mail.
Custom orders, Final Sale & Clearout items are final sale, no returns or exchanges.
International
Shipping rates are calculated automatically during checkout and are based on the items you purchase & the delivery location.
Please be aware your order may be held in customs pending your payment of duties, taxes or other fees. They may be substantial; it is advised you check with your customs office prior to placing the order as we do not refund refused delivery orders. 
No returns on international orders.
In stock
"Add to Cart" means the item is with Axis Tango in USA and available for quick delivery.*
*Yuyo Brujo shoes only: "Add to Cart" means your Yuyo Brujo shoes are in stock in London & will be arriving in the next monthly transfer to Axis Tango.
Pre-order
"Pre-order" means item is not in stock in USA and will be arriving in approximately 6-16 weeks. Unless specifically designated as non-returnable, pre-orders are not custom orders and can be returned within 21 days of mailing to your US address.